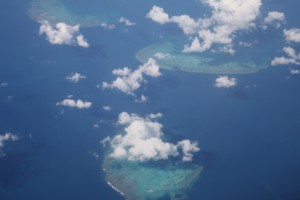 After having squeezed all the camping gear through the check-in at Auckland airport we had a great flight with Air New Zealand across the Tasman Sea. And while going down towards Cairns we could finally get a first glimpse of it: the biggest coral reef in the world. The Great Barrier Reef is a system of about 2900 reefs and 900 islands and stretches for 2600 km along the north-eastern coast of Australia (the state of Queensland).
Having collected all our luggage we had to pass immigration and the freaks from biosecurity who insisted on cleaning and disinfecting our tent pegs. We said thank you and went to pick up our new rental car (a nice and new Corolla), drove to into Cairns and pitched up our base camp on a rainforest like camp site inside town.
Diving in Australia is so damn expensive that it was hard to accept how much money we would have to leave here to spend a night on the reef. We did find an off-season deal though and started right the next morning to a little "liveaboard" tour that included seven dives at the outer reef within two days!
We've had some amazing diving on Boracay, Coron and Sipadan, but the Great Barrier Reef truly fascinated us. The seascapes of the reef are absolutely beautiful, with deep valleys, caves, steep walls and singular rocks all sitting on a sandy floor that went from 15 to about 30m. The crystal clear water and bright sun led to stunning visibility and colours of the unique fish and corals.
For most of the dives we were just the two of us as 'buddy pair' without a dive master, and we really enjoyed the complete freedom to choose our own way underwater. The briefings and maps to the dive sites were great, so we had little trouble to find the sharks and turtles, triggerfish and trevally, nudibranches and crustaceans and a giant Maori Wrasse of little less than 2 meters length. We also did our longest underwater cave ever (closed ceiling for about 10 m).
Probably the best experience were the huge grey sharks that herded around the flood lights at the back of the boat after dusk. On our night dive we went into the water with them and could watch them hunting from up close. The boat engineer, an Austrian guy that emigrated to Queensland about 20 years ago, fed these massive animals with little pieces of sausages which made them shoot out through the surface and snap them up. Compared to the elegant, calm (at least during the day) and rather small whitetip sharks the grey reef sharks are quite fat and slightly agressive though usually not towards divers.
Seeing the turquoise waters of the reef and experiencing the underwater animals of this amazing part of the planet was a great start to our almost 6 weeks "down under".