The wooden keel of the longtail boat hits the sand and we jump off into knee-deep crystal clear water.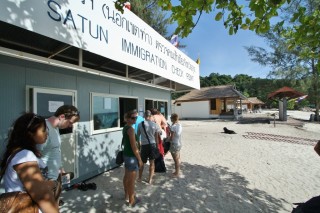 The boatman hands us our backpack and barefoot we make our way through the fine white sands of Pattaya Bay. The guides direct us to a little shack on the beachfront. It turns out to be the coolest immigration checkpoint of our whole journey thus far. Pack on the back, feet in the sand and flipflops in one hand, I use the other to give the guy my passport. Unfortunately you only get a visa for 15 days if you enter Thailand via a land border (30 days at airports, 60 at embassies). We did not even come by land, we came by boat! A two hour journey from Malaysian Langkawi ended here on Koh Lipe's Pattaya Beach.
During our first hours in Thailand we were actually fighting disappointment. Not because we got too spoiled by other beautiful places, but because we were concerned that the unexpected price level – about twice as high as on the roughly 40 km away Langkawi – would hurt our budget quite badly and we as real Swabians would not be able to enjoy this place to its fullest. However after roaming around this little paradise island, its laidback vibe, friendly people and hidden gems grabbed us. After the first night, we moved from our slightly shabby but expensive hut with beach view to a nice little bamboo bungalow hidden in the middle of the island (about 7 € per night). We fell in love with the great evening atmosphere on Pattaya with all its candles, sand vulcanoes, deck chairs and pillows, the incredibly delicious Thai food (something we had been looking forward to in several countries on our journey) and obviously the beautiful white powder beaches with turquoise waters – especially the northern tip of Sunrise Beach.
After a few days on Koh Lipe and some diving there (we couldn't resist, even though we wanted to save our money for a liveaboard dive trip later), we continued our island hopping theme and went to Koh Lanta. The days were really relaxed on this island that is apparently dominated by Swedish tourists. It's less developed, less busy, more accessible (via bridges from the mainland) and much more spacious than Lipe. Living upstairs of a Thai massage place, we also got to enjoy our very first traditional Thai massage, right after a morning swim in the sea and breakfast on the beach – definitely in holiday mode now.
Koh, the Thai word for island, became the most important word for the time being, and we visited quite a few of them. Koh Muk with the overcrowded but spectacular Emerald Cave – accessible only by swimming through a 80m long dark cave tunnel. The only light in the tunnel is coming through the water – so you are swimming into the pitch black in a channel of turquoise lit up water, surreal and amazing.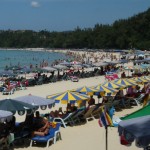 Koh Ngai had no crowds but comfortable swings on the beach. And finally famed Koh Phi Phi, with stunning vistas across the little island and some nice diving. A beautiful place, even though it's very developed and crowded, but with a little hiking effort we managed to get away from the crowds and find quiet paradisical beaches. Only Phuket was a desaster. First destroyed by the tsunami in 2004 and now by mass tourism, it has become a greedy, crowded and overdeveloped place without character. The only place on the journey so far that we really longed to get out of, because independent travellers simply have no business here.
While looking where to go we found this insanely detailed account of all of Thailand's Islands – it looks like some people are religiously sticking to one country for their holidays. Like for the authors there, it's also hard for us to name our favourite Thai island so far, and there are yet some more to come that we are planning to visit. That movie-like arrival we had after our boat trip from Langkawi makes a strong point for Koh Lipe though.
That's been our island hopping so far:

View Island Hopping in Malaysia and Thailand in a larger map