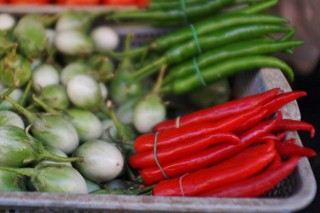 Many tasty dishes have paved our way up to here. If I had to list my five favorite culinary discoveries so far it would be Korean Bulgogi just for the taste, spicy hotpot in Sichuan/China because it's great food and entertainment at the same time, the caramelized bananas sold everywhere in the Philippines because I am a caramel addict, Guilin noodles because they were the best value street food ever, and kangaroo steak in Australia because I never tried this lean and tender meat before. But it has to be said – Thailand was our personal food paradise on the whole trip so far. The variety of curries, the stir-fries, the tasty meat and fish from the BBQ – it would be hard to pick one favorite. In fact, we loved the Thai food so much that we decided to learn how to cook it ourselves. In Chiang Mai, it's not hard to find a cooking school that will let you in on the secrets behind the addictive flavors of coconut, lime and ginger.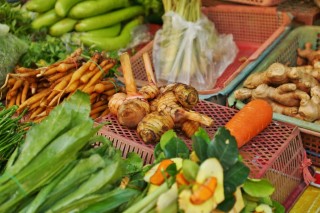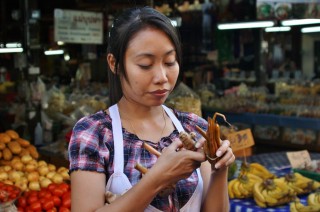 The half-day class at Baan Thai cooking school started with a tour through the local market, where we finally got acquainted with many of the ingredients we always wondered about, smelled all the varieties of Thai basil and learned to distinguish between normal Chinese ginger, finger ginger and the Thai ginger, which is called galangal. I have to admit I also wasn't quite aware of the difference between rice noodles and glass noodles: while rice noodles are obviously made from rice flour, glass noodles are made from mung bean flour. On return to the kitchen, we got started with stir-fries. I learned how to make my favorite Pad Thai, fried noodles wih lime and ground peanuts, and Mario cooked up a chicken stir-fry with cashew nuts. Almost all Thai dishes are prepared in a wok. It was really interesting to see how it is used – first frying stuff, then moving it to the sides, adding some water to boil the noodles in it, then combine everything in the end. Simple and at the same time very sophisticated, as things have a very specific order in which they go into the wok, depending on their cooking times and whether the ingredients need to be fried or boiled.
Encouraged by how tasty our first dishes turned out, we were keen to chop some more chilis and lemongrass. We learned how to make spring rolls, sweet and sour prawn soup and how to cut up a lime the Thai way. We made coconut milk from scratch by repeatedly soaking and squeezing a cotton bag filled with fresh ground coconut meat in warm water. Chicken in coconut milk was followed on the menu by the classic papaya salad. And we were taught how to make the curry pastes by ourselves, which I thought was really cool. I mean you can buy them in any supermarket these days, and it's highly convenient, but I love the thought that one day, when we are back home, I am going to buy myself a mortar and pestil and start making original Thai curry paste, and indulge in the good memories… Loads of chili, lemongrass, garlic, Thai ginger and shrimp paste go in it, and then it just takes quite a bit of work to grind all the ingredients into a smooth paste. Depending whether you want to make green, yellow, red or Panang curry, the paste is always a bit different. So Mario made a Panang curry, which is a typical dish of Southern Thailand, and we ate it often before on the different islands we visited, and I chose to learn how to make the local specialty – Chiang Mai noodles, egg noodles in a creamy coconut curry sauce, topped with deep-fried noodles and shallots.
We really enjoyed learning to cook all these dishes that we had encountered and loved along the way through Thailand. One of the main insights was probably that if you have the right ingredients, the preparation of Thai food is actually quite simple and very quick, long cooking times seem not to exist in this cuisine. And there was no salt or pepper – the standard seasoning for most dishes was fish sauce, oyster sauce and, unusual for the Western cook, sugar. The rest of the flavor comes from fresh herbs they use, coriander, lemongrass, kafir lime leaves, and thai basil. And of course, no Thai dish is complete without the obligatory lime juice freshly squeezed over it. The only problem with this fantastic class was that by the end of it, we were so full from eating all the stuff we cooked that we had to take the last portions home in a doggy bag ;-)
I am curious when we'll get the chance to put this new culinary knowledge into practice – for the time being we will continue exploring more exotic food rather than being home cooking. But we got a booklet with the recipes, so one day, we'll invite you for a Thai green curry.