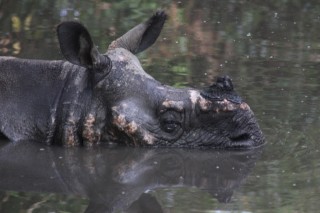 Spotting wild rhinos while riding on an elephant? We were intrigued. In a remote corner of West Bengal, in a wildlife sanctuary called Jaldapara, it's possible to do exactly that. Since 1941 the forest area is a protected habitat for wild rhinos, one of the last places in India where you can see these impressive creatures in their natural surroundings.
A bumpy four-hour bus ride from Siliguri, we arrived in Madarihat, the town just outside of the Jaldapara sanctuary. We found refuge from a fierce thunderstorm in a government-run lodge, expensive for our budget, but one of the very few accomodation choices out here. Located directly at the edge of the protected forest, we woke up in the morning to birdsong instead of the usual Indian cacophony of honking cars and shouting people.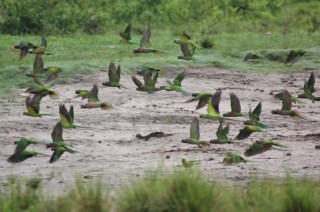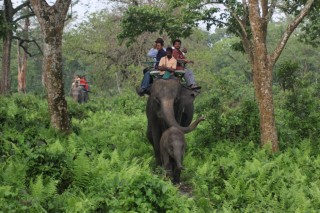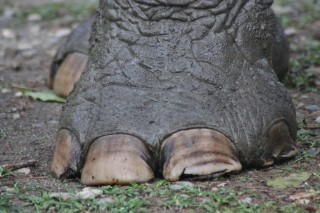 Shortly after dawn, the forest was already wide awake. Huge squadrons of flashy green parrots played games at a waterhole while we waited for our elephants to arrive. Elephant safaris are the best way to see the rhinos and other animals, as these grey giants can get really close to wildlife without frightening it and chasing it away. One mahout, as they call the elephant handlers, rides the elephant using its neck as a saddle, while four people can sit on a platform on its back. What a different way of getting around! You're quite high up, and it's a bit shaky when the elephant descends down some steep hills or crosses rivers. Nothing seems impassable, the elephant just rips small trees out if they are in the way and eats them for breakfast. I wondered if we would actually be lucky enough to find some rhinos – it's not like a zoo, they roam around freely on 216 square kilometres. But the mahouts know their favourite spots, and so we found two rhinos during our extended ride through the light forest and grassland! Each of them sat in a small pool when we found it – they seem to like bathing. It was really impressive to see the grey one-horned rhinoceros, which I would definitely describe as a giant animal, if it wasn't for the fact that we ourselves sat on an even bigger elephant. It got slowly up from its bathing pool, walked out, look at us for a while and walked off into the forest. It was a definitely one of these Wow-moments.
And I got to cuddle with the elephants – intimidating, but just too cute :-)