Initially we thought Dubai would make for a convenient stopover en route from India to Africa, but the mere stopover soon developed into a destination in itself.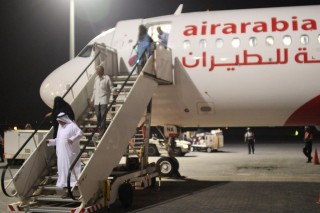 After months and months in different parts of Asia, the Arab peninsula really was a complete change for us. It already started at Mumbai airport. As the multicultural crowds sorted themselves according to their flight destinations, the colours disappeared and we soon found ourselves surrounded by people in black and white waiting for the flight to Sharjah. Almost all the men were wearing a kandora, the traditional white robe and the black cord around their head – they looked just like the stereotypical oil sheikhs to me. Many were accompanied by several women - conjuring up images in my mind that these women are a kind of harem. More likely each group consisted of one wife, his mother, his sister… but with all of them covered in black gowns, one could not tell. Some had small slits in their face covers so you could see their eyes, but others were completely veiled – the fabric covering the eyes was merely a bit thinner so they could at least see where they were going. In the security checks, they had to lift their veils briefly behind curtains to identify themselves to the personel. I couldn't help but feel a bit uneasy as a blond Western woman in shorts and sleeveless top, an outfit that just half an hour ago felt totally appropriate in Mumbai's streets. But amongst the veiled women in black, I really felt the need to change into something long-sleeved before boarding that plane.
Aboard the Air Arabia aircraft bound for the Emirates, the culture shock continued. After the usual safety demonstrations by the crew, the plane taxied towards the runway and the lights were dimmed, when through the speakers a thundering voice started to recite an Islamic prayer, which we found out later is a travel prayer. At the time we could only understand 'Allah', but that in abundance.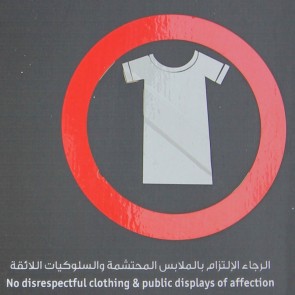 The cheap echo effect added to the dramatic feeling that God himself addresses us before we take to the skies. We have flown with many different airlines before, but not even the Israeli airline El Al – where we've experienced orthodox Jews lining up in the aisle and praying as we descended into the Holy Land – has broadcasted Jewish prayers during the flight.
Equipped with Allah's blessing, we touched down safely in Sharjah, one of the seven emirates that form the United Arab Emirates (UAE). This small emirate is located just north of Dubai, but unlike its liberal neighbour emirate, Sharjah is still a lot more conservative. The ruling sheikh here actually still cares about morals, and the dress-code of covering your shoulders and knees as well as behavioural rules such as 'no public display of affection' are officially still enforced here. So is the alcohol ban, but what happens behind closed doors is a very different story, as as we found out later.
Sharjah gave us our first taste of the UAE, and our Australian couchsurfing host Lauren made us feel very welcome here. Like most big cities on the Arabian peninsula, Sharjah is built on sand, and its skyscrapers rise literally from the desert. In between the skyscrapers, countless mosques give the somewhat artificial looking cityscape a hint of oriental flair. Once you enter places like the gold souq or the heritage area, it feels very arabic and more organic than the ultramodern developments that tend to lack character. We loved the food – the Middle Eastern flavors reminded us of Israel and therefore evoked feelings of 'home' – even though we were a bit cautious to bring up the subject of Israel in an Arab restaurant. The UAE doesn't recognize Israel as a country, and although we heard that they silently accept Israeli stamps in your passport, we entered on our second 'clean' passports, which we carry for exactly this reason, to not take any risk.
A few times we did get involved in political discussions, when we told people that we lived in Tel Aviv for a while. An Iranian girl we met called us 'controversial', but instead of getting into a lengthy discussion about the current serious tensions, she invited us to visit her family in Iran. In fact, we met quite a few Iranian expats around the Emirates, and all of them were superfriendly, and more than one invited us warmly to come see their country when they heard about our journey. They definitely stirred our interest, but with the flight to Africa already booked, unfortunately it is not an option right now. And maybe it's also better to wait till things have cooled down a bit.
Speaking of cooling down: the temperatures in the Emirates were between 40 and 50 degrees Celsius while we were there. Moving around outside was quite a challenge. Luckily we were somewhat acclimatised to such temperatures from India already, so all we needed to do was getting accustomed to the Arab world…